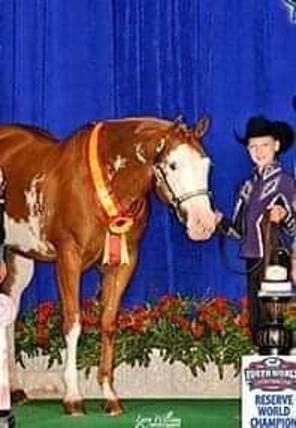 Res. APHA World Champion Showmanship at Halter
SOLD.... World Champion APHA/PTHA 15.2 hh Gelding
Sunny has been their done that, earning the World Champion title in Showmanship at Halter. Currently having 550+ APHA points, 3 Superiors . Showmanship at halter Western Pleasure and Trail class and 4 ROMs in Showmanship at halter, Western Horsemanship, Western Pleasure and Trail class. Also pts in HUS, HSE, and Western Riding...He's been in magazines, + pon covers, shown by Youth and Adults EZ ride No Prep very constant ride every time... This is a super opportunity for the right family, confidence Builder he is! Ready to show and love on today! APHA All-round Deluxe Ez to show Youth or Adult Multi talented with tremendous Showing in Multi Events Great pattern horse, In hand Trail, Riding Trail, Showmanship machine, Deluxe pattern horse always gives 100%. 2002 Model APHA/PTHA show gelding "Sunny Sensation"....*Requires maintenance wears Eggbar shoes for Manageable Navicular. Wonderful horse for youth or adult he is pure gentleman. +Click on this picture to see pedigree.
He showed @...2017 Paint Youth World top 10 in Nov. trail 14-18.
Walnut Creek Cardigan Welsh Corgis ~1's w/the tail~  
Miniature Horses VSE ~ Therapy ~ Show &/or CDE Driving
AMHA/AMHR/Pinto show horses
Contact Laura ( 770 ) 530-4815 calls only, Maryville, Tn 37804
You may need to refresh a page if you came off a search.

www.WalnutCreekFarm.net




WCF Copyright © 1990-2021 All rights reserved ..
Laura Ann Adams Webmaster & Personal Photographer