My girl Crystal and I, having some fun at the horse show
AKC Cardigan Welsh Corgis the 1's with the Tail... Different colors of the AKC Cardigan Welsh Corgi, Pembroke's do not come in these colors, please don't be fooled by folks crossbreeding these two different breeds. Although they are both Welsh Corgi's they have different body structures and should not be crossed. It is unethical to do so, plus it's all about the dog, just want the best for the total package... thank you
Walnut Creek Cardigan Welsh Corgi's, Tigger and Eeyore having fun chaising stick. (Colors of these pups are Red Brindle and Blue Merle).
Walnut Creek Cardigan Welsh Corgis 1's w/the Tail :) AKC registered Cardigan's 100% Purebred, 1's w/the Tail~ I do have to add that we do not cross breed, nor no longer raise Pembroke Welsh Corgi's. Only abide by the AKC breed standards for Cardigan's, please do not be fooled by those unethical breeders that do. Due to the different colors of the Cardigan's folks are now crossing this wonderful breed with others, stay away from those folks that do. No AKC person in their right mind would do so, or want their bloodlines affiliated with this kind of practice. Rant over for now...
Just a Dog..... From time to time, people tell me, "lighten up, it's just a dog," or "that's a lot of money for just a dog." They don't understand the distance traveled, the time spent, or the costs involved for "just a dog." Some of my proudest moments have come about with "just a dog." Many hours have passed and my only company was "just a dog," but I did not once feel slighted. Some of my saddest moments have been brought about by "just a dog," and in those days of darkness, the gentle touch of "just a dog" gave me comfort and reason to overcome the day. If you, too, think it's "just a dog," then you will probably understand phrases like "just a friend," "just a sunrise," or "just a promise." "Just a dog" brings into my life the very essence of friendship, trust, and pure and unbridled joy. "Just a dog" brings out the compassion and patience that makes me a better person. Because of "just a dog," I will rise early, take long walks and look longingly to the future. So for me and folks like me, it's not "just a dog" but an embodiment of all the hopes and dreams of the future, the fond memories of the past, and the pure joy of the moment. I hope that someday they can understand that it's not "just a dog," but the thing that gives me humanity and keeps me from being "just a man/woman." So the next time you hear the phrase "just a dog," just smile--because they "just don't understand.
Astro enjoying life in Texas...
The Cardigan's coat is generally clean, and easy to maintain. Being all-weather and odorless with just a weekly quick comb/brushing to remove dead hair. Being a double coated breed they do shed out once or twice a year, moderate coat. I love the variety of colors that the Cardigan's also come in, and charming personality.
WCF handsome Red Brindle boy...
Lovely Black Tri w/brindle points, see the brindle on her cheeks and leg areas.
Enjoy learning more about the Cardigan Welsh Corgi's, scroll down the page to see some interesting links and lil video clips for fun.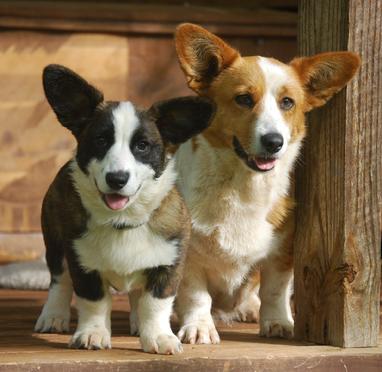 Love the colors of these Cardigan's Rubee is on the right being Red~white colored, and her daughter is brindle colored...
| | |
| --- | --- |
| Walnut Creek has had Pembroke Welsh Corgi's in our family since the early 70's, in 2002 I had gotten interested in the Cardigan's. and it's been the tail waggers ever since. My sister Suzanne has the Pembroke's, Corgi's are a family tradition. One of the first differences you see is the tail Pembroke's have their tails banned when new borns and Cardigan's are left natural... See video clip by Animal Planet for a bit more information on the differences, also most important is to read the AKC breed Standard at www.AKC.org | Animal Planet video about the breed... "Cardigan & Pembroke Welsh Corgi's"... |

Temperment of a big dog in a smaller package, outstanding family companion. Original lifestyle as being a valuable farmers helper and guardian. The Cardigan Welsh Corgi truly wants to be interacting with his family, and caring for his people. Know for the qualities of devotion, sensible affection, intelligent, alert, responsive, and highly trainable. Happy lil tail waggers....
My Lovely Niece Chloe over the Holidays with happy boy Tigger.
Laura and Slash at the Douglasville Kennel Club show in Atlanta. Slash took 1st place in his 6-9 puppy class, and then took Winners dog for 1 Pt, Thank you Judge Mrs. Robert Smith.
The Cardigan's coat is generally clean, and easy to maintain. Being all-weather and odorless with just a weekly quick comb/brushing to remove dead hair. Being a double coated breed they do shed out twice a year, moderate coat, the amount isn't to extreme.
| | |
| --- | --- |
| AKC breed standard state "...a small, sturdy but powerful dog capable of endurance and speed". Handy in size the average being around 12" at the shoulder, females 25-34 pounds and males 29-38 pounds. Lifespan averaging 12-15 years , with 16 and 17 not uncommon. | Herder in her glory :) yes we have a couple kitties... |
Cardigan's are excellent prospects for AKC Performance events in Agility, Herding, Obedience and Therapy dogs. Most important loveable family companions for all ages.
Jewel out and about with me at the barn, Cardigan's are wonderful barn companions. Easy going around the livestock, hang pretty close to their people not looking for trouble. Love a smart doggie....
Cardigan Welsh Corgi's of Walnut Creek..... Real Corgi's have tails.
Jingle Bells Jingle Bells "Nessa"
WCF Cardigan pups out exploring... Rosetta and Larry
In Welsh, Corgi means "dwarf dog". The Cardigan, the Corgi with the tail, is one of the oldest breeds in the British Isles, having been brought to Wales by the Celts in about 1200 BC. There, in Cardiganshire, the Cardigan was developed as a family companion and all purpose farm worker. His intelligence and trainability help him to excel today in most performance events. One of the best features of a Cardigan is his personality - a big dog in a small package. His loyalty and delightful sense of humor make him an outstanding family pet.


Brynn just making herself at home, our lovely dark brindle female.
Chasin loves the ranch here where all comes natural to him, being so much more than just a pretty face. He enjoys herding, obedience rally classes and hiking the trails with me....
Love these little doggies, as my Great Aunt used to say.... Corgi's are wonderful companions for all round everyday living. The Cardigan's fit very well with my lifestyle of being social, yet very well behaved, Super Smart, and humerous companions at the same time... Lowriders, heart and soul of the big/taller dogs just shorter legs. Which makes them easier to see over in your vechicle and to carry if you need to.
| | |
| --- | --- |
| "Gwenna" Showing herding style for performance! Low to the ground, crouching position on the run.... Welsh Corgi's were bred for working livestock, this is the type of style we want in our Corgi's for performance events. Sound in mind, body and soul, good all round dogs for all ages. | Cardigan's differ from Pembrokes, first notice to the eye is that Cardigan's have a tail, think of the Cardigan sweater. My what big ears they have also, body structure on the front legs Cardigans turn out, as the Pem's are straight. Over the years, I personally have found that the Cardigan Welsh Corgi's are calm natured, and obedient for my personal lifestyle. Cardigan have a variety of colors, they are a double coated breed so they do shed during the change of seasons. Otherwise wash and wear.... |
Walnut Creek Cardigan Welsh Corgis ~1's w/the tail~  
Miniature Horses VSE ~ Therapy ~

Training
Enjoying showing our APHA and Pinto show horses
Co
ntact Laura ( 770 ) 530-4815 calls only, Maryville, Tn 37804
You may need to refresh a page if you came off a search.

www.WalnutCreekFarm.net




WCF Copyright © 1999-2020 All rights reserved ..
Laura Ann Adams Webmaster & Personal Photographer